In late February, I flew up to NYC to visit publicists during what has been an annual trip for DBF staff since Tom Bell and Daren Wang first ventured north to present the idea of a book festival in this then little-known city of Decatur, GA.
On the plane, the woman in the seat next to me was wearing a mask. The virus was just appearing in the news but I hadn't been thinking much about it. The mask surprised me. Did I need one too? My mind had been elsewhere during the weeks before this trip. I'd been studying publisher's catalogs and making lists of authors I wanted to secure for the festival. Also, I had an idea.
I wanted to find out more about what the NYC publishing world thought of the Decatur Book Festival, and about Atlanta as a book tour destination. I was curious about how we measured up.
At the beginning of each of the thirteen meetings I had planned during the week, I asked about this. The responses from publicists were universally the same: Decatur is one of the four tentpole book festivals in the country, up there with Miami, Los Angeles, and Texas, and it's one that visiting authors regularly rave about.
As the week progressed, my notebook filled up with the names of authors and the titles of their books. Wonderful authors, wonderful books. I carried copies around in my backpack and read in coffee shops between meetings, then back at my hotel in the evenings. From the looks of it, our 15th anniversary festival was going to be terrific.
On the last day, in a big-window, 81st floor Wall Street office overlooking the East River, I listened to two publicists pitch smart nonfiction books about social justice, climate change, and Hip Hop and I thought about how when I was a college student in Oregon, anytime Georgia ended up in the news it was either because of an ice storm or traffic. I was proud of my state.
That afternoon I flew back to Atlanta unaware that a pandemic was simmering across the land below. Now, like everybody else, we are adjusting to a new normal we all hope is temporary. And while it looks like we may not be able to have a physical festival Labor Day weekend, we are in the process of reimagining the DBF and how we might bring books and conversations to Atlanta this year.
We'd love your input so if you have ideas about what we might do with all the good that is the DBF, send us an email: info@decaturbookfestival.com
Joshilyn Jackson Reads Series
Local NYT-bestselling author Joshilyn Jackson has been working with us this year on a series of author presentations and panels called Joshilyn Jackson Reads. Realizing the virus might interrupt our plans for a physical festival, she helped us shift this series to a virtual setting.
"The DBF is always the highlight of my year," Jackson says, "I even moved to Decatur because I fell so in love with it. I wanted to be part of the kind of town that would value literature so highly. That's why I'm doing this virtual track: I want to support this festival any way I can, and also get the word out about some really excellent books. And I want to be a small part of a group of dedicated book lovers who remain committed to doing what the festival has always done–helping people discover new important voices, the relief of an escape, or simply their next great read."
Beginning on May 7th, we are partnering with Georgia Center of Book and Metro Atlanta Libraries to feature a total of eleven talks between Jackson and authors whose works span genres and topics–from debut novelists to writers at the height of their careers. We will launch with local debut author, Ginger Eager, and her book The Nature of Remains. Set here in Georgia during the 2009 recession, this beautifully rendered story is hitting the shelves with uncanny timeliness, and its characters' immediate struggles are going to reside in the minds of its readers for a long time. Click here to register.
On May 19th, Jackson will interview another Southerner–Atlanta restaurateur and cookbook author Suzanne Viezthann, who will present her new book Welcome to Buttermilk Kitchen. On the following day, May 20th, the first ten people who order takeout from her Buckhead restaurant, Buttermilk Kitchen, will receive a free, signed copy of the book, courtesy of the DBF.
Kate Elizabeth Russell will join Jackson on May 28th to discuss her critically acclaimed novel, My Dark Vanessa. Stephen King called this one "a package of dynamite." Keep watching for the event announcement: the first person to sign up will get a velvet-bound hard copy of the book delivered to their home.
Between early June and late August, our panels will feature some of the country's most exciting new voices whose stories will help us get through these unusual times as a community.
"Story brings us together," Jackson says. "It helps us understand the world, teaches us empathy, and offers wonderful escapes from real life. We all need that right now."
Meet our Interns
This spring, we began what we hope will be a permanent fixture in our programming season–a Decatur Book Festival-Agnes Scott College internship program. It's been a delight to work with the first three students Taylor Drake, Anna Dodds, and Siuloong Englander. They quickly learned our systems and began interfacing directly with publicists as we started confirming authors for the festival. Drake recently reflected on her experience so far with the DBF:
"Underlined in my copy of Anne Lamott's Bird by Bird is when she tells interviewers that 'Other than writing, I am completely unemployable.' Fortunately, while my pedigree as an English major is what snagged me this job, I'm learning far more than writing–how to pitch on event grids, how to navigate the complex web of imprints and publishing houses and nonprofits, how to work on a team that is an actual team and not merely three people coasting off the fourth's neurotic bid for valedictorian."
After the virus closed colleges, our three interns moved into remote work–from their homes in Lawrenceville, Fayetteville, and New York City. With the help of Agnes Scott's Pepperdine Fund and the "Sally" Wilson Glendinning Award, we are able to keep the seniors, Taylor and Anna, on as paid interns for the summer.
The Pepperdine Award is in honor of the late Jane Pepperdine, a professor and chair of English for many years; the fund supports English majors doing research and internships. The Glendinning Award was established by Anne Glendinning to honor the memory of her mother, Agnes Scott College Class of 1933 alumna, Sally Glendinning, who was an accomplished writer and journalist during an age when women were often relegated to the sidelines.
By August, Tayor and Anna will have learned how virtual author programming works, how to write complex grants, and what a great community Decatur is to live and work in.
Thank You to our Sponsors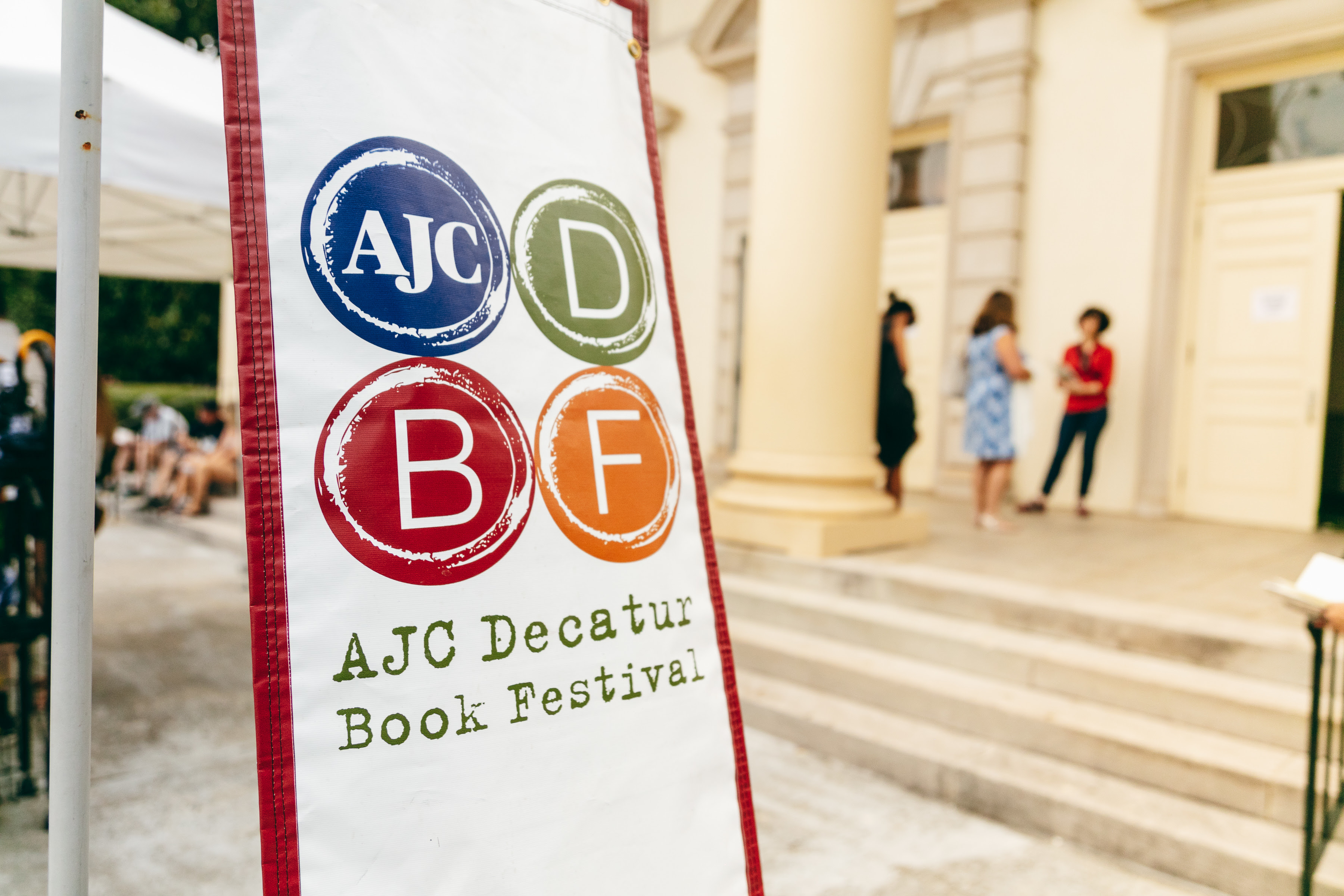 Each year, the Decatur Book Festival couldn't happen without the financial help of our generous sponsors. Their generosity did not stop even when it became clear that 2020 was shaping up to be a very different enterprise for our organization and the festival.
As we have begun the process of reimagining the DBF both in light of the virus and its economic impact ,and in the post-virus future, our sponsors have stepped up with their support–offering various types of resources to get us through this year, promoting our programs, and contributing their ideas and dreams of what we might become. These organizations are impactful leaders in Atlanta's arts and culture world, and we are immensely grateful for their support.
If you love the Festival and have been thinking about supporting us (or considering adding to what you've already given), now's the time. We need your support more than ever before: click here to donate.